TSG (Thuy Son Group) is a Company with more than 18 years experience in the field of wood processing for export. We are proud of being one of the top Companies in this field in the Mekong Delta area. Our target is: ENVIRONMENTAL PROTECTION – SCIENCE AND TECHNOLOGY APPLICATION – AFFORESTATION – ENHANCEMENT OF VIETNAMESE WOOD'S VALUE.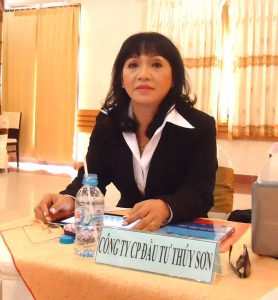 January. 2013
We would like summary introduction our Thuy Son Group "TSG" as followings:
Understanding of value of wood-based products
– Over 18 years of experience on wood
– ISO 9001:2008
– Closed system:Seeding-Forestry – Wood Chips – Wood Pellets – Export
– Own 1,200 Ha. Forest and 29,000 Hecta corporation in Ca Mau Provinve, Vietnam
– Two Wood Chip Factory, Lab tissue, Wood Pellets, Nurery Garden.
– Until 2012, capacity export Eucalydtus, Acacia wood chips 300,000 BDMT. Main partner APP, Kaite Group, Fujian Furent Wood Industries Co.,LTD, Chongqing Lee&Man Paper Mfg.LTD
– Has China, Japanese, Korea, EU strategic partners
– Has  a system of 120 shipping – buying agents within a 150 km radius in the Mekong Delta region.
– Employees: 115 full time, 50 part time.( 40% of fermale employees)
– Created jobs for 240 foresters
– Female Business Owner
– Adherence to specific criteria:
1. Export markets strengthening
2. Private sector-strengthening
3. Poverty-oriented
4. Demand-oriented
5. Market-strengthening
6. Financially viable
7. Sustainability of service provision
8. Supportive of women business owners
9. Consideration of cross-cutting issues (CSR, OHS, HIV/AIDS…)
Please visit our www.thuysongroup.com.vn for more information.

Your Sincerely,
Tran Thi Anh Nga, General Director